IN-CJ Live Discussion – Artificial Intelligence and the Criminal Justice System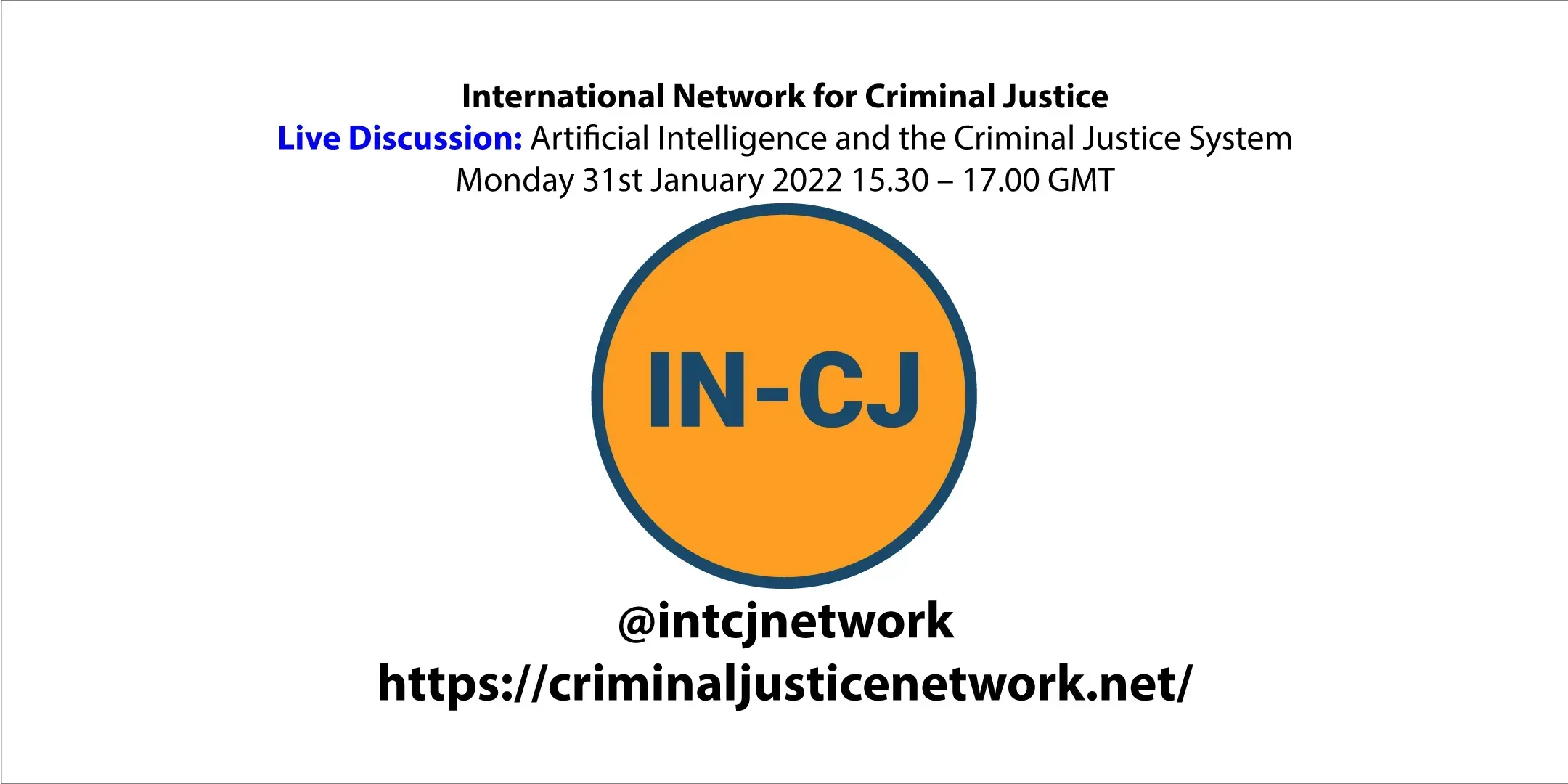 IN-CJ is hosting a live discussion on the role of 'Artificial Intelligence and the Criminal Justice System', the first of seven events in our 2022 programme. With a panel of experts and a live audience, we will be discussing what changes AI is bringing and how Artificial Intelligence is already impacting criminal justice practice. Issues and questions to be covered: what are the values and ethics of AI in criminal justice practice? Are practitioners ready for the changes that are coming?  What are the challenges presented by AI, and will they be a positive benefit for future services?  What will be the impact of AI for service users, and where will AI take us in the coming years?
In a round table conversation, contributions will be made by
Dr Victoria Knight, De Montfort University, United Kingdom
Prof Mike Nellis, University of Strathclyde, Scotland
Pia Puolakka, Smart Prison Project, Finland
Matt Rowland, Technology Innovation Consultant for Criminal Justice, United States
Steven van de Steene, Smart Corrections, Belgium.
Time:  15.30 – 17.00 GMT (16.30 to 18.00 CET)
Register to take part in the discussion
You can find us on: https://criminaljusticenetwork.net
Follow us on Twitter:   @intcjnetwork
Visit Eventbrite to get your ticket: https://www.eventbrite.com/e/in-cj-artificial-intelligence-and-the-criminal-justice-system-tickets-251162512837
The discussion will be made available afterwards on the IN-CJ YouTube Channel.
Contributors
Victoria Knight: Dr Victoria Knight is Associate Professor in Research for the Community and Criminal Justice Division in the Faculty of Health and Life Sciences, De Montfort University. Victoria has expertise and research experience across two core areas: 1) digital technologies use in prisons and 2) emotion and criminal justice. Victoria employs a range and mix of methodologies including qualitative and quantitative. Victoria has extensive research experience for engaging 'hard to reach' groups in a range of settings: both community and prison. She strives to adopt an 'appreciate approach', taking on board people's situations and difficulties. Victoria has led and managed a number of research projects and evaluations with respect to basic skills interventions for young offenders. Victoria's research and scholarship contributes to ongoing thinking and responses to the design and implementation of digital technologies in prison settings.
Mike Nellis: Prof Mike Nellis is Emeritus Professor of Criminal and Community Justice in the Law School, University of Strathclyde. Formerly a social worker with young offenders in London. Mike has a PhD from the Institute of Criminology in Cambridge, and was long involved in the training of probation officers at the University of Birmingham. Mike has written widely on the fortunes of the probation service, alternatives to imprisonment and particularly the electronic monitoring (EM) of offenders. Mike was actively involved between 2005-14 in the organisation of the CEP EM conferences, and between 2011 and 2013 acted as an expert adviser to a Council of Europe committee which drew up an ethical recommendation on EM. Mike co-edited 'Electronically Monitored Punishment: International and Critical Perspectives', with Belgian colleagues Kristel Beyens and Dan Kaminski in 2103, and served on the Scottish Government's EM Working Party 2014-16. Mike is the international editor of the Journal of Offender Monitoring. Mike teaches a Master's degree course on "surveillance, technology and crime control" at Strathclyde.
Pia Puolakka: Pia Puolakka has been working for the Criminal Sanctions Agency, Finland since 2012. She started as a prison psychologist. Since 2017 she has been working in the Central Administration. There, she first worked as a senior specialist responsible for rehabilitative services including programme work, family work, and psychological and spiritual services in prisons. In 2018 she was appointed as the project manager of the Smart Prison Project. Her current post includes developing digital services for rehabilitative purposes and leading the implementation of the smart prison system. In 2020 she started as the project manager of the RISE Al project that is developing artificial intelligence (Al) application for client work and counselling in the Criminal Sanctions Agency. By education she is a forensic psychologist and works also as a private psychotherapist. She has done further studies in Artificial Intelligence and digitalization for the purposes of the current Smart Prison and Al projects. She is especially interested in how digital means can contribute to people's well-being and abilities. She is a board member of the EuroPris ICT Expert Group.
Matt Rowland: Dr Matt Rowland, holds a Juris Doctorate from Brooklyn Law School, New York, and has held the post of Chief and Senior Executive Officer, for the Administrative Office for the United States Courts in Washington, DC  Probation and Pretrial Services from 2002-2018 . Matt is now a technology innovation consultant for Criminal Justice, working independently and as a subcontractor with multi-national consulting firms. Matt is a subject-matter-expert and management consultant to agencies involved in the criminal justice process,  specializing in strategic planning, technology and process innovation, operational review, training and study coordination.
Steven van de Steene: Steven Van De Steene is an Enterprise Architect and Technology for Corrections Expert. He works as a researcher, affiliated to De Montfort University and as a consultant in the area of innovation and technology strategy for prisons and probation services. Steven has a long experience in international projects related to digital transformation in corrections and currently is a Board Member of the International Corrections and Prisons Association (ICPA). Prior to this current position he was the IT Director of the Penitentiary Institutions in Belgium and chair of the Technology Expert Group within EuroPris.
Articles and Resource Links
Towards digitalisation of prisons: Finland's Smart Prison Project – Pia Puolakka