IN-CJ Newsdesk 2022 – International Insights Thursday 19th May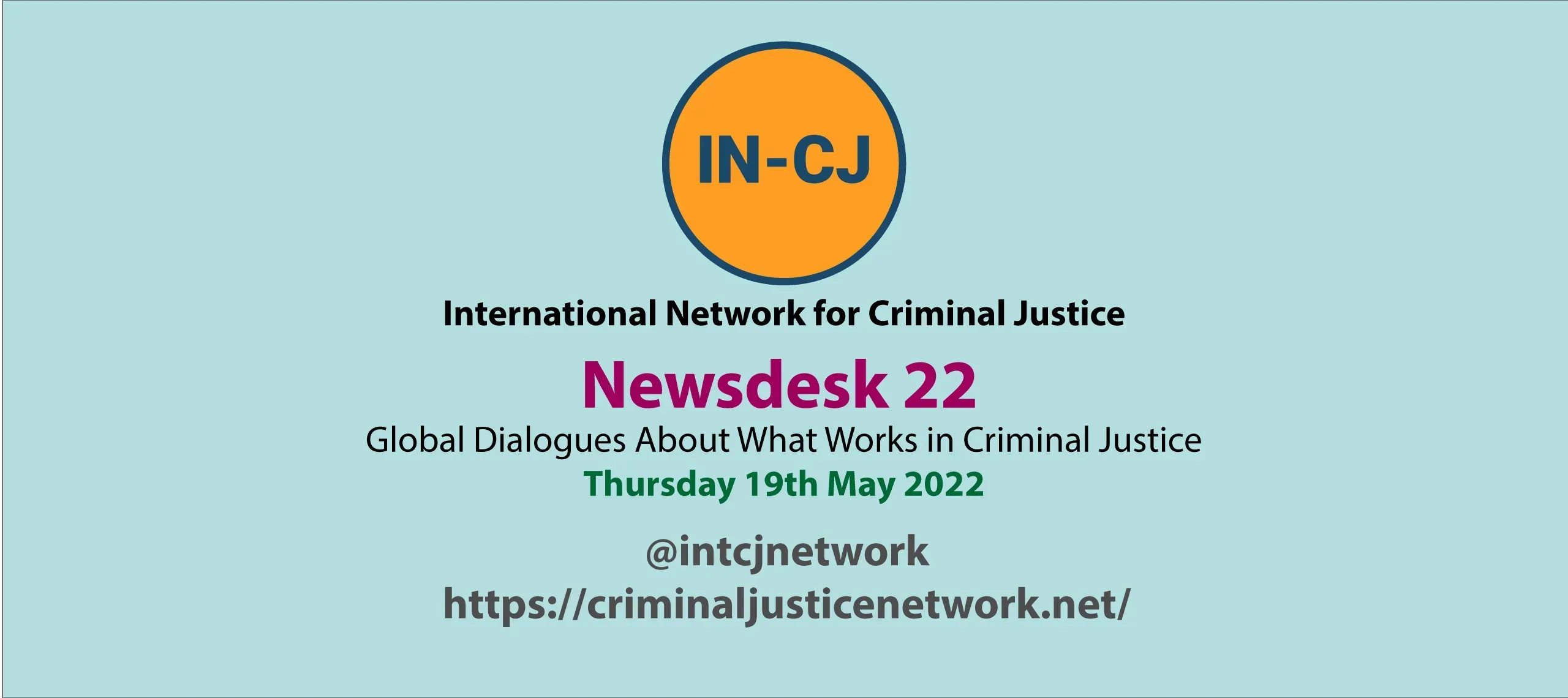 International Network for Criminal Justice is dedicated to encouraging conversations about criminal justice with an international perspective. This year IN-CJ is partnering with HMPPS Insights22, to host a day of online conversations and discussions between people supporting criminal justice. With contributions from Japan, Nigeria, Spain, Norway, Scotland and the United States, we'll be streaming a day of interactive dialogues live on YouTube, so we can connect criminal justice practitioners from around the world, to learn knowledge and skills, share ideas and good practice, connect to build relationships, and celebrate success.
Discussions are scheduled with practitioners and advocates from across the globe, starting at 7am BST (UK time) and moving with the day (all times BST/UTC +1). The conversations are an online dialogue about criminal justice practice from an international perspective. Our aim is to get a sense of what's happening on the ground. There's much we can learn from one another if we share our practice in conversations, and listen to stories of people working to support and foster innovative approaches to criminal justice in different parts of the world.
IN-CJ knows that the need for creative solutions to justice issues is greater than ever. The coming years will make international development work ever harder (budgets, travel, nationalism, the long-term implications of the Covid-19 pandemic), so IN-CJ is aiming to nurture a network of different professionals and agencies and nationalities to make connections that will make a difference, and generate inspired ideas in the process.
Book tickets on Eventbrite.
Live Stream on YouTube.
Confirmed Contributors Include (times as BST/UTC+1):
9.00 Australia – Governor Paul Baker Governor of Parklea Prison, a MTC-Broadspectrum managed correction centre in Sydney Australia, will be discussing with Sarah Mallender Deputy Governor, and Ferry Lee Senior Psychologist, the differences between governing prisons in the UK and Australia, and the complexity of trying to start and develop a rehabilitative culture.
10.00 India – Mitali Nikore: discussing domestic violence and the shadow pandemic (during covid) in India.
11.00 England & Wales – Mark Farmer Ministry of Justice: this contribution will focus on the work being done in England's probation services, developing an inclusive approach to the principles of rehabilitation. The conversation will bring together the work done for Local Citizen's Pathways, based on the social proscribing model, and lived experiences of service providers and users.
12.00 Japan – Reiji Ikeda: discussing how volunteer management plays a positive role in the community to stop reoffending, and what we can learn from an integrated social approach.
13:00 Spain, Catalonia – Post-Prison Follow-Up Service. This session is being run by INTRESS, an NGO that carries out social reintegration projects with different vulnerable groups amongst which, imprisoned people, in collaboration with the Secretariat of Criminal Sanctions, Rehabilitation and Victim Support, Ministry of Justice, Government of Catalonia. More information in Spanish here.
14.00 Nigeria – Dr Uju Agomoh: discussing how prisoner's rehabilitation and welfare is developed and put into practice.
15.00 Estonia – Laidi Surva Ministry of Justice in the Republic of Estonia: discussing how young people's experience of criminal justice is understood and developed. Taking part in this discussion are:
Annika Vanatoa, Prosecutor
Margarita Ingel, Police Officer
Alexander Arabkin, Youth Worker
Helerin Välba, Restorative Justice Coordinator
16.00 Bermuda – Keeva Joell-Benjamin Commissioner of Corrections will be discussing how management of mental health clients is supported within the Bermuda Department of Corrections, and how transition to the community is facilitated through a regular meeting with stakeholders.
17.00 Trinidad & Tobago: Blended Approaches to E-justice

Prof. Christopher Brown, Political Sciences and International Studies Georgia Southern University USA (to be confirmed).
Dr Georgina Chami, (Lecturer, International Relations University of the West Indies, St Augustine Trinidad).
Dr Florence Seemungal (Research Associate, Centre for Criminology University of Oxford and Adjunct Staff, Psychologist University of the West Indies Open Campus).
Prof. Brown and Dr Chami will discuss the plight of forced migrants, refugee and asylum seekers in Trinidad and Tobago during the COVID-19 pandemic. They will consider the Gaps and Gains in Trinidad and Tobago's migration policy and legal framework, and look at  lessons from Latin American and the Southern Caribbean to mitigate the exploitation and victimisation of migrants with enhanced human rights, work rights and convention rights.
Dr Seemungal will discuss the paradigm shift to e-justice during the lockdowns associated with the COVID-19 pandemic in Trinidad and Tobago, Barbados and the Eastern Caribbean, with emphasis on Domestic Violence Protection.