IN-CJ Podcast 039 – Jana Spero and Gustav Tallving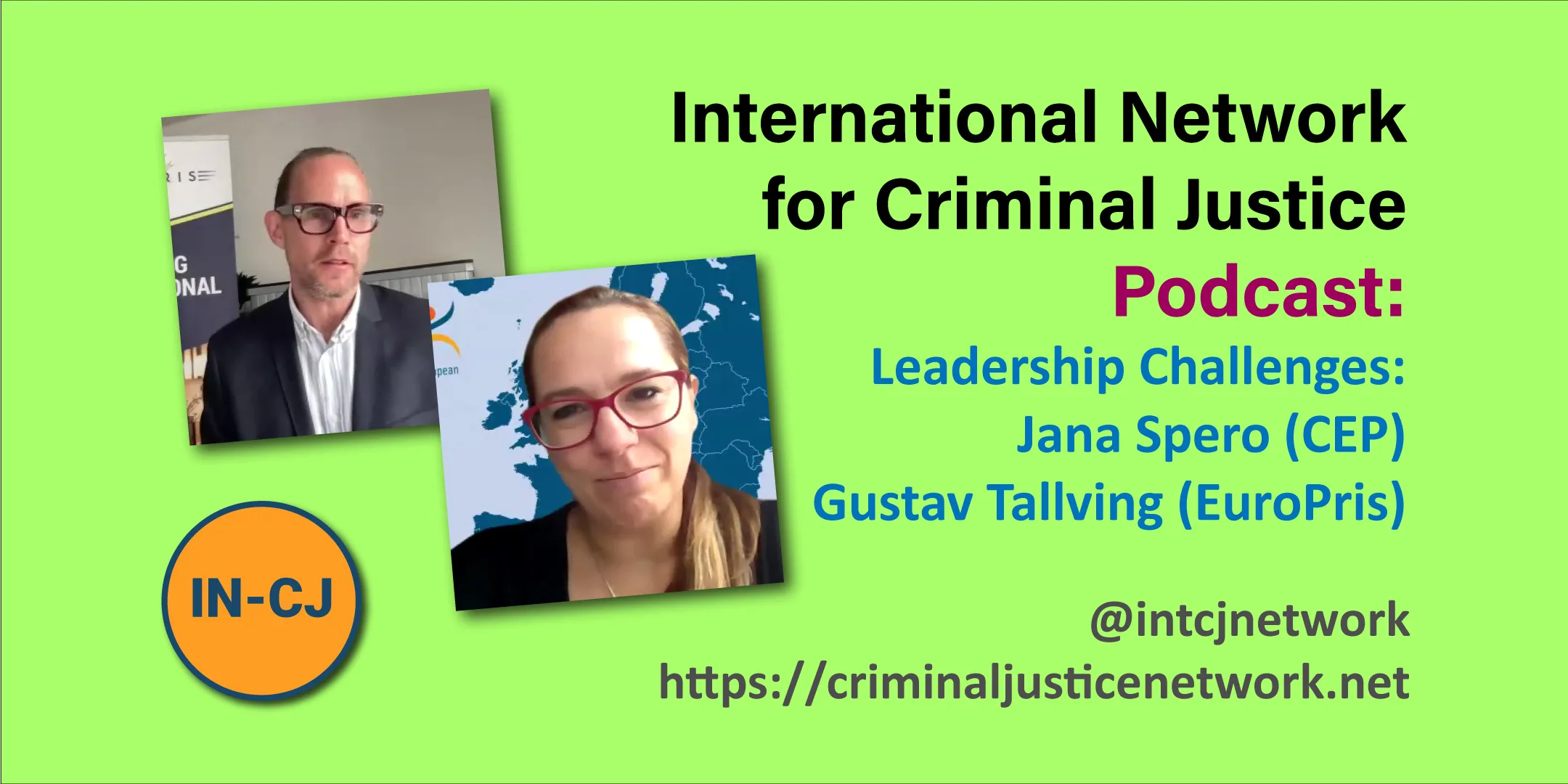 Podcast: Play in new window | Download
Subscribe: Apple Podcasts | Google Podcasts | RSS
Leadership in Criminal Justice is changing and adapting to a new set of circumstances that are increasingly international in scope, bourne by the introduction of new technologies, and built on the realisation that what works must be examined holistically and developmentally. In this episode of the IN-CJ podcast, John Scott talks with Jana Špero and Gustav Tallving about their leadership roles in criminal justice support organisations that work across Europe.
Jana Špero took office as the Secretary General of the Confederation of European Probation (CEP) on September 1, 2022, becoming the eleventh person to hold this position. Prior to this role, she served as the Director-General for Prisons and Probation in Croatia and was a board member and Vice-President of the CEP. She holds a Master of Law degree and is a Master-Specialist of Criminal Investigation.
Throughout her career, Špero has been actively involved in the development of probation services, participating in various activities such as workshops, round tables, and projects. Her expertise has been sought in countries including Bosnia and Herzegovina, Montenegro, Bulgaria, North Macedonia, and Greece. Furthermore, she has played an integral role in the presentation of the Croatian Probation Service at numerous international conferences and has led various European Union and Norway Grants projects that were aimed at strengthening the Probation Service in Croatia.
Colleagues at the CEP anticipate that Špero will build on the organisation's existing efforts to establish a robust, ethically oriented, and diverse professional community. Her new role is expected to inspire more women to pursue management careers in the challenging but rewarding field of criminal justice. Špero's track record as an imaginative, dynamic, and effective leader, combined with her commitment to the worth of probation and its European values, position her as a crucial voice for probation in Europe. She is expected to continue to maintain, promote, and expand the CEP network, stimulate the exchange of knowledge on probation, and partner in relevant EU projects.
Gustav Tallving assumed the position of Executive Director of EuroPris on April 15, 2021. Before taking on this role, Tallving had a rich professional history spanning 17 years in the Swedish Prison and Probation Service, holding various positions over that period. His experience in the field extends beyond Sweden; he has acquired a deep understanding of correctional systems throughout Europe and other parts of the world.
In addition to his domestic work, Tallving also previously collaborated with EuroPris from 2017 to 2019 in a part-time secondment as a policy officer. This experience allowed him to deepen his familiarity with the organisation and its mission.
As he transitioned into the role of Executive Director, he received support from his predecessor, Kirsten Hawlitschek, ensuring a smooth transition and continuity of leadership within the organisation. His extensive experience in the field of prison and probation services, as well as his previous involvement with EuroPris, equip him with the knowledge and skills needed to lead the organisation effectively.