IN-CJ Newsdesk 2023 – Mental Wellbeing and Cognitive Diversity in Criminal Justice Practice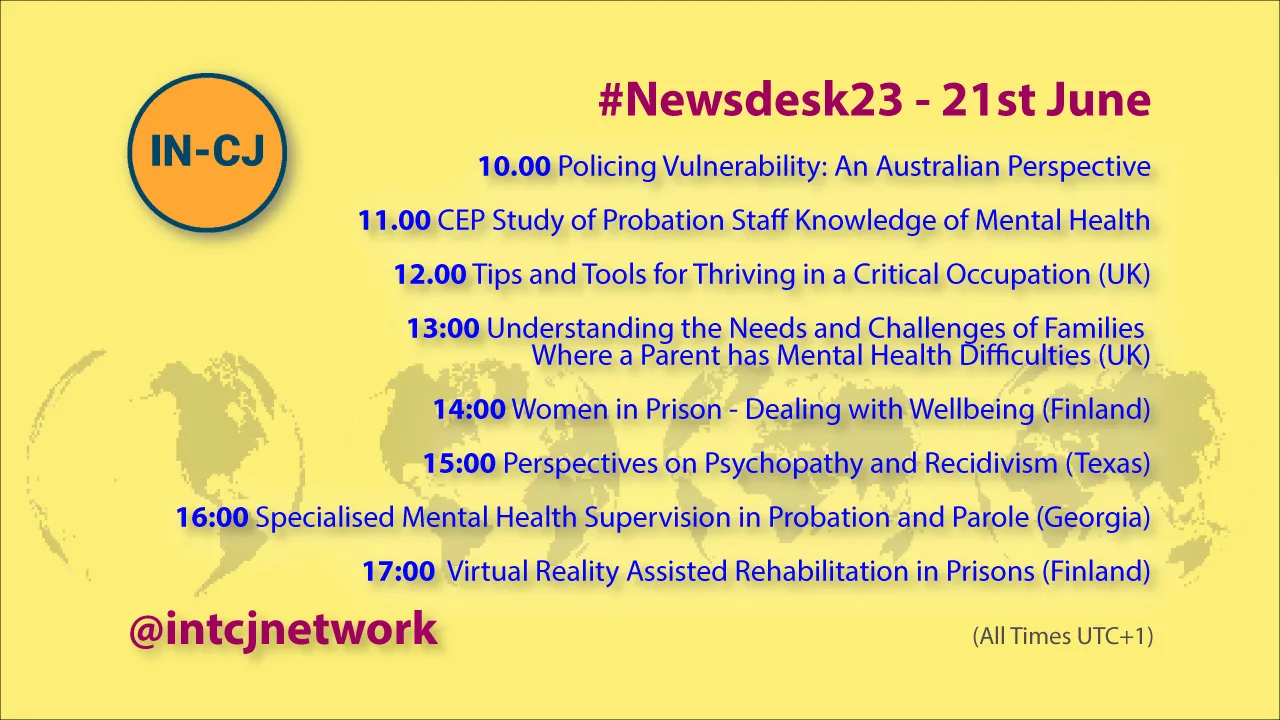 On Wednesday 21st of June 2023, the International Network for Criminal Justice is hosting our annual online newsdesk day. With contributions from around the world, the newsdesk will showcase discussions and reflections on Criminal Justice practice. The newsdesk is an opportunity for IN-CJ contributors to share their insights, good practice and challenges as part of a global dialogue.
Our theme this year is Mental Wellbeing and Cognitive Diversity: Watch here on YouTube.
How are different approaches to mental health understood around the world.
How is cognitive diversity accounted for in policing, probation and prisons?
Do cultural differences shape the way we plan for mental wellbeing?
How do we go beyond crisis management and trauma alleviation in our practice?
This is a co-produced event, with video discussions that are streamed on YouTube, giving viewers and listeners from around the world an opportunity to take part in live conversations through the day. The newsdesk starts in Australia and follows the time-zones through to Europe, and then to the Americas.
There is More Information to Come, but Confirmed Contributions Include: All Times BST (UTC+1)

10:00 Australian Perspectives on Policing and Vulnerability
In this session, Dr Matthew Morgan and Dr Shannon Dodd will discuss some recent high-profile cases involving police use of fatal force on people with mental illness and cognitive diversity. We reflect on whether these events were caused by inadequate police training and/or a toxic police culture. Matthew and Shannon will draw upon recent research from a regional town in Australia, regarding car theft and joyriding by young First Nations males.
11:00 European Perspective on Mental Health in Probation
Probation staff's knowledge across Europe about mental illness can often be better than the general population's knowledge, although their attitudes are often found to be healthy when measured using the Mental Health Literacy Scale. The CEP Expert Mental Health working group is looking at the design of a common-score curriculum with national add-on modules, that can be used to evaluate and assess improvements to mental health provision. Professor Charlie Brooker of Royal Holloway, at the University of London, and Coral Sirdifield a Senior Research Associate at the University of Lincoln, and Gerry McNally, former president of CEP, will discuss how the study came about, and what the lessons are so far.
12:00 UK Tips and Tools for Thriving in a Critical Occupation
In this session, Professor Joanna Clarke, a renowned psychologist, will share tips and tools for thriving in critical occupations. Recognizing the unique challenges faced by those in the criminal justice system, Professor Clarke will examine the importance of trauma-informed approaches. Her question and answer session will discuss valuable strategies to prevent psychological harm, while boosting well-being in high-pressure environments. Participants will have the opportunity to gain insights into enhancing their own mental well-being while effectively supporting others.
13:00 Understanding the Needs and Challenges of Families Where a Parent has Mental Health Difficulties
In this session, Dr Scott Yates and colleagues will discuss some challenges faced by young people and families where a parent has mental health difficulties. We draw on our experiences in our various countries of how services work with these families and consider some key messages from our research fields for how support can be improved so that we minimise the risk of negative outcomes, including the need for criminal justice interventions.
Scott is an Associate Professor in Psychology at De Montfort University. He has conducted research on many aspects of health and illness, and for the past decade has specialised in research around support for and experiences of families where a parent has mental health challenges.
Joanne Nicholson of Brandeis University, Professor in the Institute for Behavioural Health and a clinical and research psychologist with over 30 years of experience working with parents with serious mental illnesses and their families.
Brenda Gladstone of the University of Toronto, who is Associate Director of the Centre for Critical Qualitative Health Research, University of Toronto.
Rochelle Hine of Monash University. Rochelle is a lecturer at Monash Rural Health. Rochelle's mental health research focusses on prevention and early intervention, grounded in a social justice framework and an understanding of the social and economic factors that influence mental health outcomes.
14:00 Finish Perspective on Women in Prison and their Loved Ones
Anastasia Lapintie and Sari Lönnberg, experts in women-specific work, will lead a thought-provoking discussion on the significance of mental well-being for women in prison and their loved ones. They are aiming to shed light on the statistical prevalence of mental health issues among incarcerated women, and the subsequent impact on behaviour, decision-making, and emotional regulation. The speakers are going to explore the critical role that relationships and support outside prison walls play in the mental well-being of incarcerated women. Attendees will have the opportunity to explore the challenges faced by women in prison and their loved ones, and gain insights into effective support strategies.
15:00 Texas (USA) Perspectives on Psychopathy and Recidivism
Dr Chelsey Narvey will share insights from her work into psychopathy, and how policies and practices within criminal justice systems address recidivism among offenders. Chelsey will explore the links between associated forms of violence, such as anti-social behaviour and domestic violence, and will explain how examples of attuned and well-organised mental health awareness and knowledge of the processes that drive psychopathy can reduce criminal behaviour and harm to others and the individuals themselves. This session will draw on Chelsey's emerging research at Sam Houston University.
16:00 Georgian (USA) Perspectives in Specialised Mental Health Supervision in Probation and Parole
Kasey Barton, Ywkesha Garvin, Chris Burke, and Jolie Blackmon, are community supervision officers from the Georgia Department of Community Supervision. They will lead a live-streamed discussion on specialised mental health supervision in probation and parole. They will be exploring the advantages of specialised mental health caseloads in community supervision. The session will introduce the 'consultation component' and its role in mental health supervision. Participants will gain valuable insights into the duties of mental health officers, the impact of the caseload on those being supervised, and the reasoning behind the addition of the consultation component. Video: A Day in the Life of an Officer.
17:00 Virtual Reality Assisted Rehabilitation in Finish Prisons
Pia Puolakka of the University of Helsinki and Jenni Kaunomäki, who is a researcher at the Prisoners' Health Care Unit, and is preparing her thesis for the Helsinki University regarding VR assisted therapy with inmates, will share insights from the Finish use of virtual reality to support rehabilitation in prisons. VR has been used for therapeutical purposes, such as assisting with anxiety management, exposure therapy for phobias, relaxation, self-management, skills training and so on. Pia will outline how the latest pilot with the Finish Prison Healthcare Unit is being used to help young antisocial inmates with aggression and problematic behaviour issues. This session will explore how digital services and online consultation for mental health problems are being developed in Finnish prisons.