IN-CJ Newsdesk 2023 Call Out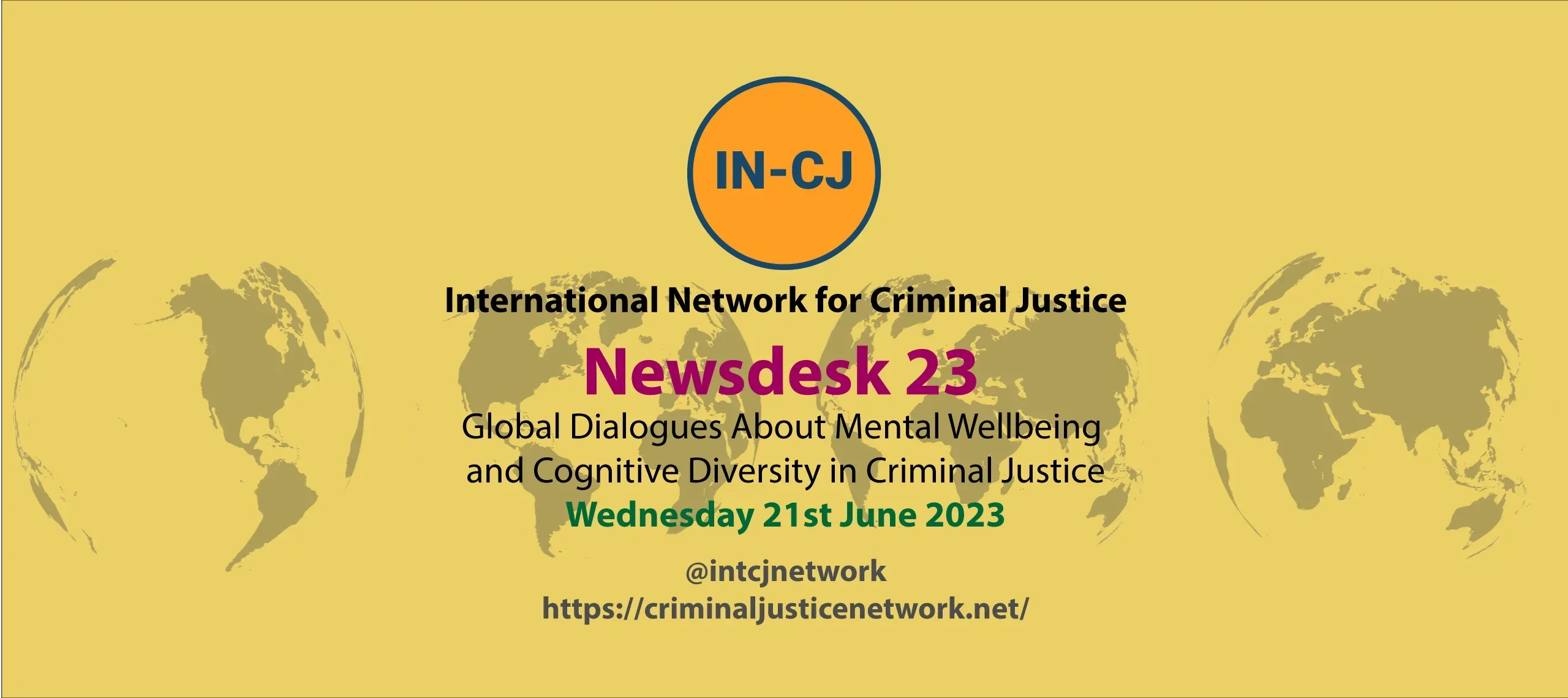 On Wednesday 21st of June 2023, the International Network for Criminal Justice is hosting our annual online newsdesk day. With contributions from around the world, the newsdesk will showcase discussions and reflections on Criminal Justice practice. The newsdesk is an opportunity for IN-CJ contributors to share their insights, good practice and challenges as part of a global dialogue.
Our theme this year is Mental Wellbeing and Cognitive Diversity:
How are different approaches to mental health understood around the world?
How is cognitive diversity accounted for in policing, probation and prisons?
Do cultural differences shape the way we plan for mental wellbeing?
How do we go beyond crisis management and trauma alleviation in our practice?
This is a co-produced event, with video discussions that are streamed on YouTube, giving viewers and listeners from around the world an opportunity to take part in live conversations through the day. The newsdesk starts in Australia and follows the time-zones through to Europe, and then to the Americas.
Take Part: we are looking for contributions from criminal justice practitioners, researchers, policy developers, resource managers, and people focused on making criminal justice work more effective.
We are keen to learn how individuals and organisations are playing a practical role in enhancing the experience of criminal justice as we learn to better recognise the importance of mental wellbeing and cognitive diversity.
How do practitioners in different countries, who work in different systems and traditions, deal with crime, offending and justice from the perspective of mental wellbeing and cognitive diversity?
Each conversation will last about thirty minutes, and can be held live, or pre-recorded. The newsdesk is a powerful way to hear stories from around the world, and to connect with people who are learning from their experience and practice.
The aim of the IN-CJ is to capture and share conversations that show how ideas and experiences shape professional practice, guide policy development and resource allocation, which fosters a greater level of understanding of the needs of victims of crime, and the people who commit crimes.
If you are interested in taking part in the newsdesk, please contact Dr Rob Watson, and we'll arrange a conversation to help shape your contribution as part of our global discussion: info@criminaljusticenetwork.net