IN-CJ Global Dialogues Newsdesk 12th May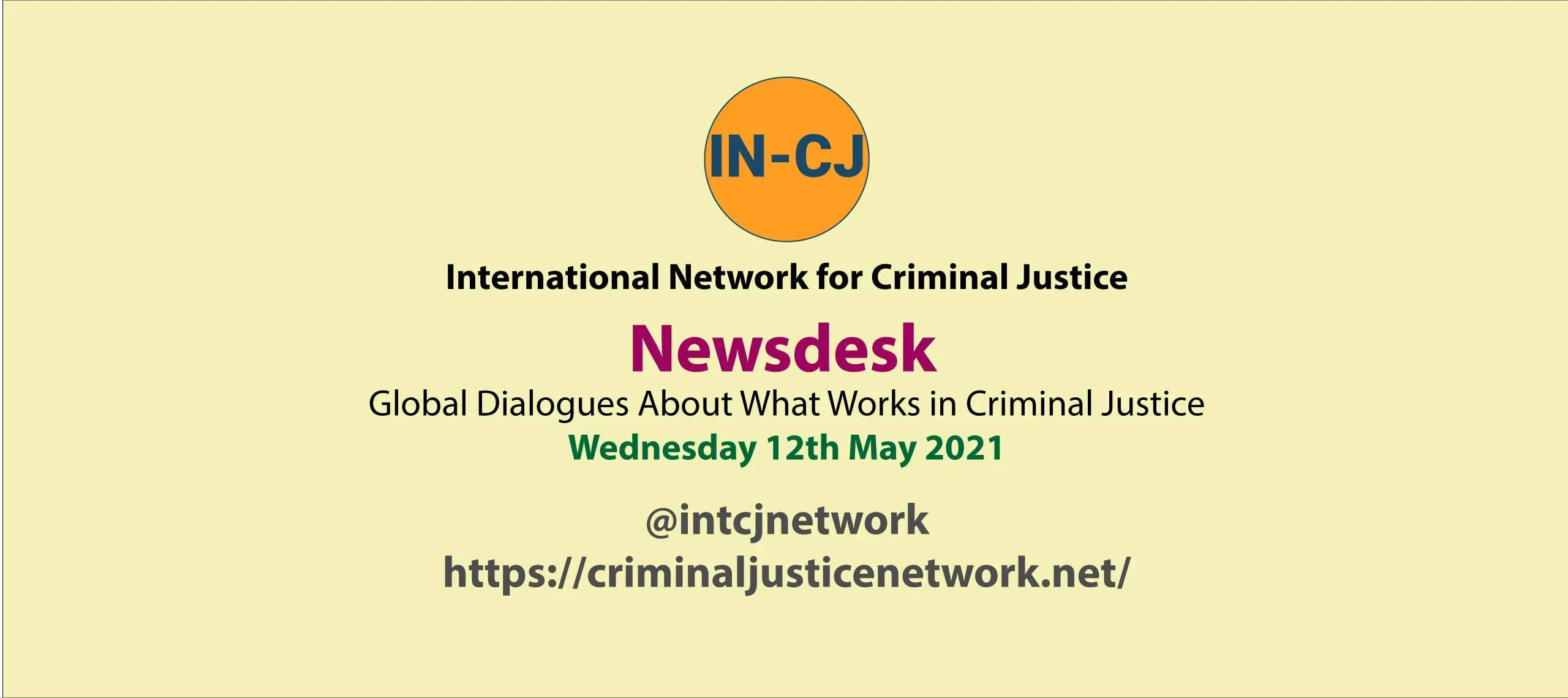 The Covid-19 pandemic has presented many challenges for criminal justice professionals and practitioners around the world. Not only has the pandemic disrupted the way that criminal justice is administered and resolved, but the pandemic has tested the practicalities of maintaining safe living and working environments. The challenge of providing a minimum level of human interaction and supervision, while being either locked-out or locked-in to prisons, for example, has been consider-able.
The IN-CJ newsdesk will bring together practitioners and advocates of innovative criminal justice engagement in a series of facilitated online conversations and discussions. Streamed on YouTube Live, these conversations will enable online dialogues from an international perspective, which shares the experience of people working or living in different criminal justice systems as part of an interdisciplinary and global conversation.
The IN-CJ newsdesk is an opportunity to bring together practitioners and people with lived experience of different criminal justice systems from around the world. There is a world of stories waiting to be told about how the people who are associated with different criminal justice systems, in different countries and jurisdictions, have been able to adapt and respond to the pandemic. In some countries the experience of the pandemic has been progressive, and has accelerated new thinking and practice. While in other countries the pandemic has been used as an opportunity to implement regressive and punitive changes to the management of people who are already on the margins of their local criminal justice systems.
Discussions are scheduled for practitioners and advocates from across the globe, starting at 7am BST (UK time) and moving with the day, including (all times BST/UTC +1)
09:00 Spain: Applying Lessons from Circles for Restorative Justice
This session is coordinated by Carles Soler, Centre d'Estudis Jurídics i Formació Especialitzada. The CerclesCat program is aimed to serve the reintegration and the prevention of recidivism of high risk sex offenders in the community.
Based on the restorative justice principles, is an adaptation of Circles of Support and Accountability (CoSA) which is in operation in several prison systems in Europe and North America.
During the session a presentation about what Circles is like in Catalonia and its benefits from the point of view of involved professionals will be given.
Participating in the presentation are: a coordinator of the program, a psychologist and a social worker from two prisons, a Circle coordinator, and a volunteer.
10:00 Romania: Prison and Probation – What is success?
This session is coordinated by Iuliana Carbunaru and Professor Ioan Durnescu, and brings together professional staff from the Rumanian Prisons and Probation services and considers the challenges of maintaining effective prison and probation services.
11:00 Finland: Smart Prison vs. Traditional Prison
Participants in this session are Project Manager Pia Puolakka, Senior Criminal Sanctions Official Tuomas Hanhikangas and Senior Coordinator Almaleena Suomala. This session will consider what are the advantages and disadvantages of the new Smart approach to prisons in Finland? It will look at the challenges that are being faced in Finnish prisons in adapting to this challenge. Will all prisons in the future be Smart Prisons and is there room for traditional prisons anymore?
Twitter: @rikosseuraamus
12:00 Netherlands: Is there potential in the use of experiential knowledge within the judicial domain?
This session is coordinated by Lieke Veldhuizen, based at University of Applied Sciences Utrecht. It will consider what experiential peer-support means in practice, and will ask what is known about the added value of this approach through recent research? This session will discuss how this approach is perceived by the people who are actually targeted by this approach in practice, and what the prospects are for this approach?
'Experimental peer support and its effects on desistance from delinquent behaviour: protocol paper for a systematic realist literature review.'  https://systematicreviewsjournal.biomedcentral.com/articles/10.1186/s13643-019-1036-2
'I (really) know what you mean'. Mechanisms of experiential peer support for young people with criminal behaviour: a qualitative study'  https://www.tandfonline.com/doi/full/10.1080/0735648X.2020.1848608
13:00 England & Wales: Establishing the IN-CJ Network in a Time of Global Crisis
This session explores how the IN-CJ Network came about and how it's priorities have shifted in response to the global pandemic. John Scott will share his experience as a senior leader with the probation service in England, and what the challenges are of building an international network focussed on practice and professional experience.
14:00 Scotland: Trauma Informed Practice in Criminal Justice
This session is coordinated by Scott Grant of the School of Education and Social Work, University of Dundee. Trauma-informed practice is gathering pace in Scottish criminal justice social work. This session will explore the challenges and possibilities of using this approach with people made subject to community sanctions and measures. The session will hear from practitioners and leaders in the field.

15:00 Nigeria: Responding to the COVID-19 Pandemic in the Nigerian Custodial Centres Through the Application of Non-Custodial Measures
This session will discuss how the Nigerian criminal justice services have adapted to the pandemic with the use of alternative approaches to incarceration. Contributing to this session are Professor Don John Omale (Twitter), Criminology and Restorative Justice and Victimology Expert. Dr. Uju Agomoh (Executive Director of PRAWA), Mr. Kevin Ugwuoke (Deputy Superintendent of Corrections).
16:00 Ireland Prisons: Red Cross Support During Lockdown
This session is coordinated by Governor Frances Daly and will share effective practice within Irish prisons during the lockdown, focussing on how infection control has been pioneered by prison and education staff and by prisoners through a peer led programme and wellbeing champions.
17:00 Ireland Probation: Working with Young People Utilising a Trauma Recovery Model.
This session is coordinated by Brian Johnston of the Candle Trust, who offer educational, social and developmental programmes, for young people which provide a therapeutic space and youth service. Candle is committed to meeting the needs of all the young people and support them in reaching their full potential.
18:00 United States: Drug Courts and Reform of Sentencing Practice

This session is coordinated by Chelsey Narvey and brings together probation professional to talk about the innovative work of drugs courts and the role of activist judges as an alternative to proscriptive sentencing.
19:00 Close:
As we confirm our contributors topics we will update it here. Follow IN-CJ on Twitter for regular updates, or subscribe to our mailing list, and we'll keep you up to date with the latest events and content that we have shared. Don't worry if you miss a session, we will capture and reshare the audio and video from the discussions and make them available to view via the IN-CJ website and our social media platforms.