IN-CJ Podcast – Restorative Justice and the Dynamics of Knowledge Transfer Across Countries and Sectors Session One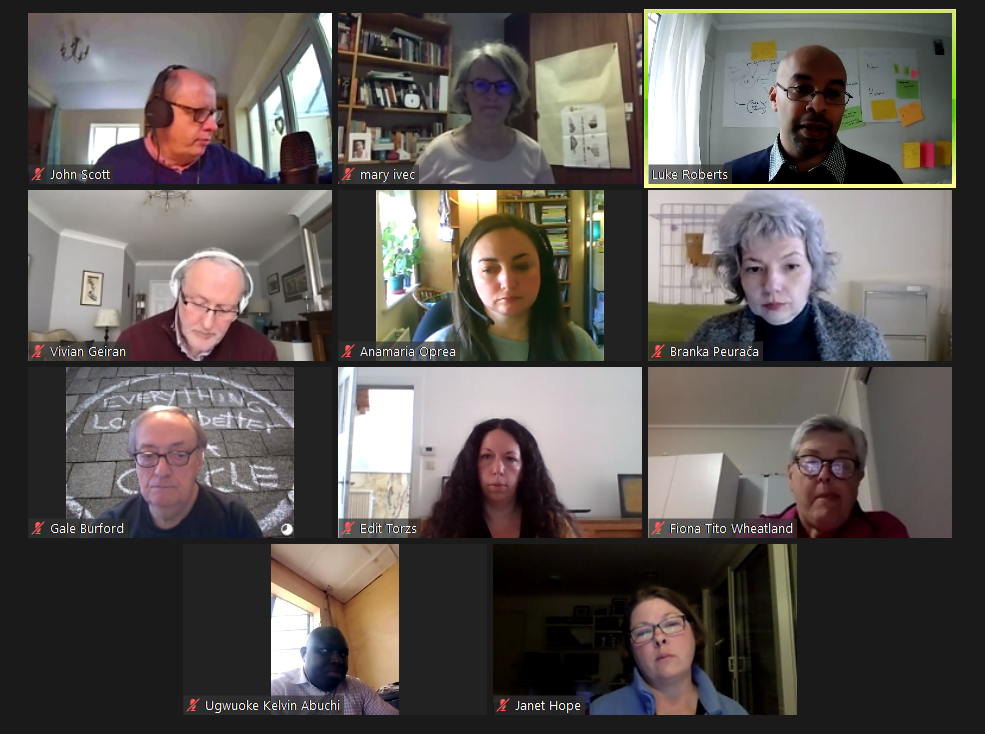 Podcast: Play in new window | Download
Subscribe: Apple Podcasts | Google Podcasts | RSS
Today we hosted our second international webinar of this year on the topic of Restorative Justice. In this webinar we opened up a conversation about the dynamics behind the transfer of restorative justice knowledge across countries and sectors, by uncovering the systemic and cultural factors that foster the dissemination and sustainability of restorative justice ideas in different services, organisations and at various system levels.
The programme includes presentations from different parts of the world:
Dr Anamaria Oprea (De Montfort University, UK) opens up the discussion by highlighting the key elements of knowledge transfer dynamics in the case of restorative justice.
Mary Ivec (School of Regulation and Global Governance, Australia), Dr Fiona Tito Wheatland (Enduring Solutions, Australia) and Dr Janet Hope (University of Canberra, Australia) discuss next about the restorative reform that has been initiated a few years ago across the Canberra community.
Dr Luke Roberts (Resolve Consultants, UK) exemplifies the process of restorative knowledge transfer in a number of schools in England by using evidence from his doctoral studies.
Branka Peurača (Creative Social Work Association, Croatia) concludes with a discussion of how restorative justice came to be introduced in her home country, highlighting the key international pressures that shaped the dynamics of knowledge transfer.
Each presentation was followed by questions from the audience. In answering these questions, the presenters were joined by John Scott (IN-CJ, UK) as Chair, and round-table experts Gale Burford (University of Vermont, US), Edit Törzs (European Forum for Restorative Justice, Belgium), and Vivian Geiran (Trinity College Dublin, Ireland).
Presenters Bios
Dr Anamaria Oprea: Ana holds a graduate degree in Social Work with a major in Probation studies, and a post-graduate degree in Community Justice at the University of Bucharest. Ana obtained her PhD in 2010 with a national evaluation of the probation system in Romania. Ana's research interests have always sat at the crossroad between social work and criminal justice. Ana has a keen interest in exploring the use of participatory and restorative approaches in direct work with marginalised populations, including offenders, victims and survivors of different crimes, families in which child abuse and neglect is present, and young people committing or being victims of crime. Ana has published both in English and Romanian in a variety of formats; she is the co-author of the first guide to penal mediation in Romania, and is currently working on a Romanian translation of the UN second edition of the Handbook on Restorative Justice Programmes. Ana is currently sitting in the Social Work team at De Montfort University, and leads the Social Care Learning and Development Hub. Ana is also a founding member of the East Midlands Restorative Justice Forum, a local network of professionals interested in the development of local restorative justice practice.
Email: aoprea@dmu.ac.uk
Twitter: @DrAnamariaSzabo
Mary Ivec: Mary holds post-graduate degrees in social policy, social work and counselling having completed her Bachelor of Arts (Sociology and Politics) at the Australian National University. Mary has over 30 years' experience in human services ranging from the not-for-profit sector, government policy development, community development, social work education and clinical practice as a mental health social worker specialising in cross-cultural and trauma counselling. Mary commenced working at the School of Regulation and Global Governance at ANU in 2007 on regulatory research including child protection, occupational health & safety and radicalisation. Mary convenes the Canberra Restorative Community Network which has over 600 members interested in sharing and learning about the applications of restorative practices and processes across diverse social issues.
Email: mary.ivec@anu.edu.au
Twitter: @maryivec
 Dr Fiona Tito Wheatland: Fiona was the Executive Officer of the ACT Law Reform Advisory Council during its reference on Canberra as a Restorative City 2016-2018 and wrote the Bright Ideas Evidence Paper bringing all the research and public consultations for the reference together.  Fiona obtained PhD in 2017 from Australian National University on "the Doctor Identity and Patient Safety", now Executive Director, Enduring Solutions Pty Ltd. Fiona is a well-known policy writer and advocate in the areas of health, state child removal, social justice and law reform, having had a 40 years career in law reform thus far. Fiona is also active in urban agriculture, the repair cafe movement, food security and equity, prison reform and redressing indigenous inequity in all its forms.
Email: fionatitowheatland@gmail.com
Twitter: @FionaTitoW
 Dr Janet Hope: Janet qualified as a biochemist and lawyer and worked as a barrister for several years in Australia and New Zealand before completing a PhD in Law at the Australian National University in 2005. Early in her academic career, Janet won national competitive postdoctoral fellow and research awards and published an international award-winning monograph with Harvard University Press in the field of open science and technology development. In 2010 Janet designed and convened an innovative interdisciplinary flagship course for ANU called "Creating Knowledge", covering different modes of knowledge creation and transmission in a range of intellectual traditions. In 2011 Janet's personal experience over two decades in disability and mental health advocacy and victim support led her to step out of academia and establish a successful "international microbusiness" as an executive coach, affiliated with the International Coach Federation and European Mentoring and Coaching Council. Janet joined the Canberra Restorative Community Network (CRCN) in 2016. She has recently returned to academia as a Senior Lecturer at Canberra Law School, University of Canberra, where she works with Dr Holly Northam OAM and others to develop explicit restorative practices in the university environment.
Email: janet.hope@canberra.edu.au
Twitter: @doctor_mum
 Dr Luke Roberts: Dr Luke Roberts is a restorative practitioner, trainer and consultant for almost 20 years.  He has worked in primary, secondary, and special schools as well as alternative provision and Pupil Referral Units during moment of conflict and crisis. His work also includes training children and people, school staff and parents in how to use restorative approaches to address conflict in their communities. His worked across the Youth Justice System a bespoke model of restorative approaches for the Youth Custody Service to reduce violence in the under 18 prisons (Youth Offending Institutions). He has also worked in the adult prisons training staff and prisoners.  He has recently addressed issues of race and conflict in prisons for staff working with young people. Luke originally trained as a lawyer before becoming interested in restorative approaches, he holds an MBA, and MEd as well as his PhD which focused on system which sustain restorative approaches in secondary schools.
Email: LukeRoberts@resolve-consultants.co.uk
Twitter: @LukeshRobert
Branka Peurača: Branka is facilitator, trainer and evaluator with extensive experience in the fields of civil society, social services and social inclusion. Branka is currently Senior Expert at Creative Social Work Association, where she focuses on the ways to improve outcomes for children by integrating restorative practice in the social work with children, their families and others responsible for their wellbeing. Branka is also enrolled in the PhD programme in Social Work and Social Policy at the University of Zagreb. Branka co-wrote the first mediation manual in Croatia and designed and delivered mediation training seminars for different groups such as Roma, social workers, judges, police officers, community activists, as well as series of workshops in restorative practice for prisoners.
Email: meliora052@gmail.com